HISTORY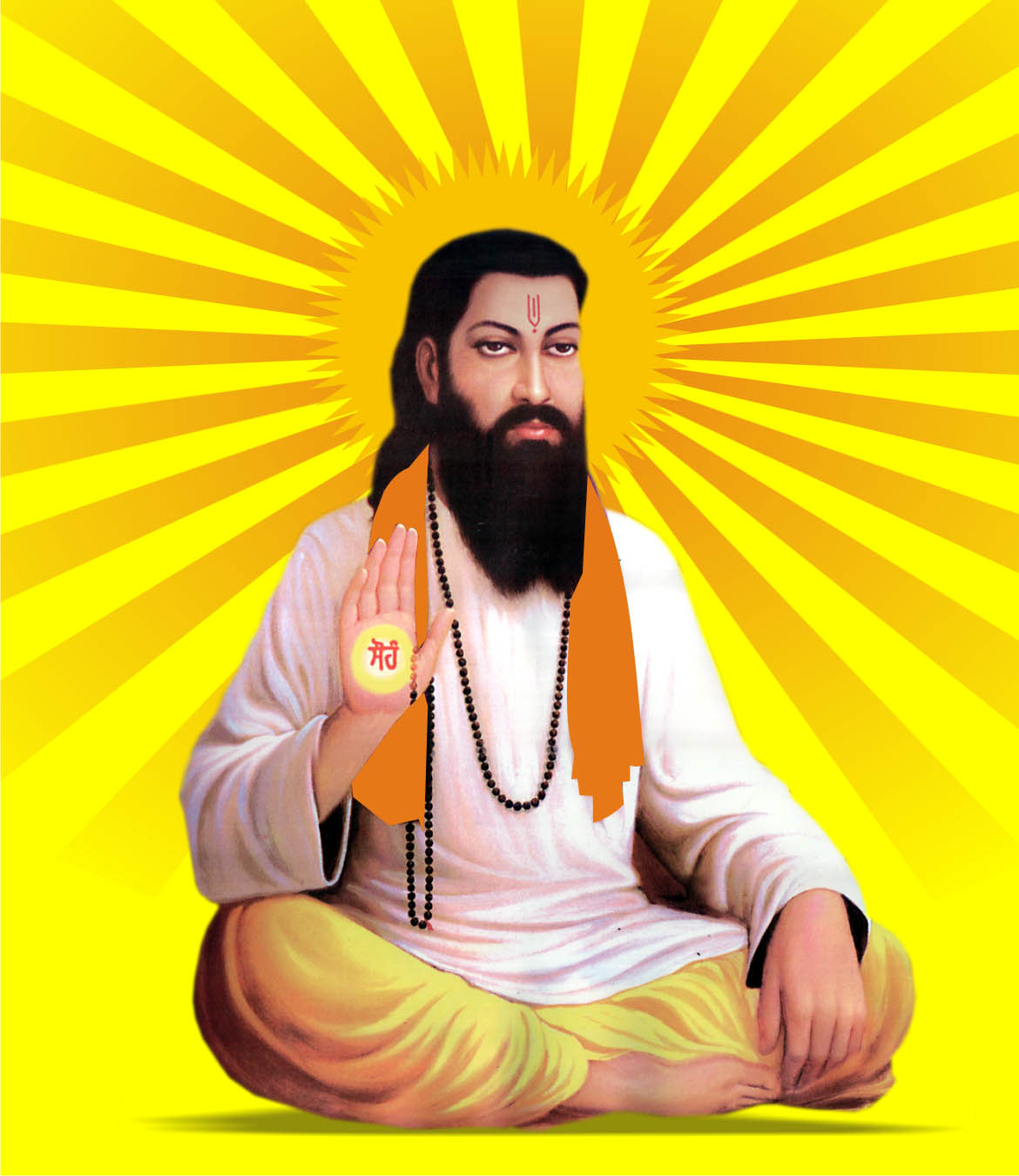 Dera Swami Jagat Giri ji Maharaj was founded to spread the mission and follow the teachings of Guru Ravidas ji Maharaj to :-
a) Convert the world into " Begampura " (place free from sorrows & worries) in an environment full of compassion care and commitment.
Begampura Sehar Ko Nawo
Dukh Andoh Nahi Tihi Thauw
b) Provide the best education to all, especially deprived sections of society. For this purpose four schools are running under the expert direction of Dera Swami Jagat Giri Charitable Trust, Pathankot. : -
Madho Avidhya Hit Kien
Vivek Deep Malin
c) Make the society free from Drugs, liquor and social evils :-
Sursari Salal Krit Baruni Rey
Sant Jan Karat Nahi Paan
d) Unite all under the religious flag of Dera Swami Jagat Giri and under the leadership of Swami Gurdip Giriji Maharaj.
Satsangati Mili Rahio Madhau
Jaise Madhup Makhira
Jai Guru Ravidas ji
History of Dera is very ancient. Gurus (spiritual masters) were of wandering nature. Swami Ditta Tariu had approached 23 Gurus of different missions but he was not satisfied and he ultimately found qualities of complete Guru and got Naam Daan from a Guru related to this line of Gurus. After Guru Ditta Tariu Swamiji, Guru Gulab Giri Swamiji, Guru Lachi Giri Swamiji, Guru Moti Giri Swamiji, Guru Tota Giri Swamiji, Guru Rattan Giri Swamiji, Guru Shambhu Giri Swamiji, Guru Sukhe Giri Swamiji and Guru Budh Giri Swamiji were the Dharam Gurus of this sect. These Gurus kept on wandering from one place to another place to spread the mission of Guru Ravidasji. They were known as Fakkar (wanderers) or Ramta yogies. Because of this detailed information about them is not traceable. Swami Shingara Giri ji Maharaj born at village Baroti tehsil Shakargarh (now Pakistan) on 27th Feb 1838, was blessed and given Naam Daan (spiritual word from spiritual master) by Guru Budh Giri ji Maharaj. From Pakistan family shifted to village Ahluwal near Pathankot Punjab but later moved to Palouta Sahib near Ramgarh J&K in 1907 and purchased a piece of land from Nawiya Salaria, a muslim by religion. A Guru Gaddi was established at Palouta Sahib. Guru Maharaj had many followers who used to visit Dera for religious discourses given by Swami Ji. Regular Bhandaras (community kitchen) used to be arranged at dera for devotees. At the time of simran Guru ji used to breathe in (Surti) for hours together without breathing out. On 15th of June 1934 Swami ji left this world for heaven after handing over Guru gaddi to Guru Jaig Gopal Giri ji.

Guru Jaig Gopal Giri Swami ji was born on 17th Feb 1908 at Palouta Sahib near Ramgarh, Jammu. Guru ji inherited religious leanings right from his childhood and always used to accompany saints. He was in search of complete Guru and lastly got Guru Shingara Giri ji Maharaj as his spiritual master (Guru). After that Swamiji adopted the path of 'Vairagya' and 'Tiyaga' (away from material tastes) and radiated spiritual discourses. He shared the views with devotees for the welfare of the society and worked selflessly for removal of the pains and grieves. He became widely renowned in the public life and devotees increased manifold. This became intolerable to the jealous people who were not happy by the increasing popularity of Guru ji.

In1947 India was divided in two parts by the Britishers which led to the Hindu Muslim riots. Both Hindus & Muslims started fighting among themselves. Arson and looting and mindless bloodshed was on its peak. Swami Jaig Gopal Giriji's sevak (follower) Labhu Ram asked Guruji as to when the bloodshed would come to an end. Upon which Guruji said, "This bloodshed will be over only when some great soul gives the sacrifice" . Sevak said ,"Except you who else can be the person". Swamiji smiled & said, "Perhaps God wishes so". It was the morning of 15th of October 1947 when Muslim raiders were seen approaching to Palouta Dera. They were heavily armed with spears, sticks, swords, and arms & ammunition. On the refusal of conversion to Islam three followers of Guruji namely Mothu Ram, Bhagat Ram & Basawa Ram were beheaded. Then the mob advanced towards Guruji. Guruji was also asked to accept Islam as his religion, otherwise face the consequences like his followers, but he refused. On his refusal, the leader of the Muslim raiders threatened him of his life. But Guru ji remained firm to his determination not to vow to their pressure of conversion to Islam. Guruji said," Do you think, one who adopts Islam, will not die? We know how to die while remaining alive", then he breathed in through 'Pranayama' the body became lifeless. Traitors felt that he will come back to life again and they cut his throat and killed him. Swamiji preferred to sacrifice his life than to survive at the cost of Dharma & Nation. By this supreme sacrifice of Guruji and his followers , the brutal killings between Hindus and Muslims came to an end and peace and tranquility prevailed. Saint Kabir Maharaj recites for such great personalities:-
"SURA SO PAHCHANIYE, JO LARE DEEN KE HAET
PURJA PURJA KAT MAREY , KABHUN NA CHHADE KHET"
After Swami Jaig Gopal Giri ji Maharaj's demise, Swami Jagat Giri ji was rechristened on whose name Dera Pathankot is running at present. It is popularly known as 'Taposthan' the place of meditation. Swami Jagat Giriji Maharaj was born on 30th of Nov. 1925 A.D. at village Jattar, Distt. Sialkot (now in Pakisthan). Since 1947 till 1965 Swamiji was serving the masses at Palouta Sahib and after that he shifted to Pathankot, where also the followers of Guruji started pouring in for his blessings and the barren land of Pathankot became pious because of the Dera and here every day the holy & pious Amritbani of Guru Ravidas is being recited. He handed over the reigns of the Dera to Swami Gurdeep Giriji Maharaj ji.

Swami Gurdeep Giri ji Maharaj was born on 7th of Feb, 1961 at Vill. Bhattian Distt Gurdaspur ( Punjab). He was bestowed the responsibility of the Dera on 7th of Jan , 1976 at the age of 14 years. After vigorously studying the teachings of Guru Ravidas ji Maharaj , Swamiji has not only preached the pious Gurbani of all Saints, he has also taken up the task of making this Dera more popular and also to achieve the mission of Begampura, a place where there is no poor, no pains, no worries. Swami Gurdeep Giriji Maharaj is not only a great saint but he is also a great reformer and a social worker. He does not only criticise the social evils but has inspired his followers to get rid of them. His religious and pious discourses not only enlighten the people but also help in bringing together the masses under the gamut of Dera. Swami ji firstly constructed the temple (Taposthan ) of Guru Ravidas ji Maharaj on the western side of river Chakki at Pathankot, Distt. Gurdaspur in Punjab. Area adjoining is named as Ravidas Chowk. Afterwards keeping in view the increasing rush of devotees at the Dera,land across chakki bridge in Himachal pradesh was purchased and a mega & marvelous dashing Darshani Deodi (Big Gate) was constructed by the Trust. This mega structure consists of 12 big rooms for the devotees.A huge Satsang Bhawan has also been constructed. Now the building of Meera block with 45 rooms has also come up. For the smooth functioning of the Dera a Trust has been formed by the name of 'Dera Swami Jagat Giri Charitable Trust', which has prominent, reputed and highly qualified persons from the society, as Trustee Members. Swami ji himself is the Chairman of the Trust. Due to untiring efforts of Swamiji, this Dera of Pathankot has become an international Dera. Swamiji had undertaken various foreign tours to spread the mission of Guru Raivdas ji Maharaj. The followers of the Dera are not only in India but also in various countries abroad. With the aim to brighten career prospects of the youth and to prepare them to compete in the job market especially those belonging to financially week and downtrodden sections of society, Trust has purchased 70 acres of land costing Rs.1. 25 crores (17 kms from dera on Dhar road, 5 kms off the road from Mamoon Cantt. to set up professional colleges and institutes. This mega and prestigious project will open the doors of education for poor and downtrodden youth to various educational and professional institutes. This mega and prestigious project is a "Dream Project"of Swami Gurdip Giri ji Maharaj.
*****